2018 Beach Camp Coastal Festival Fun Trail Run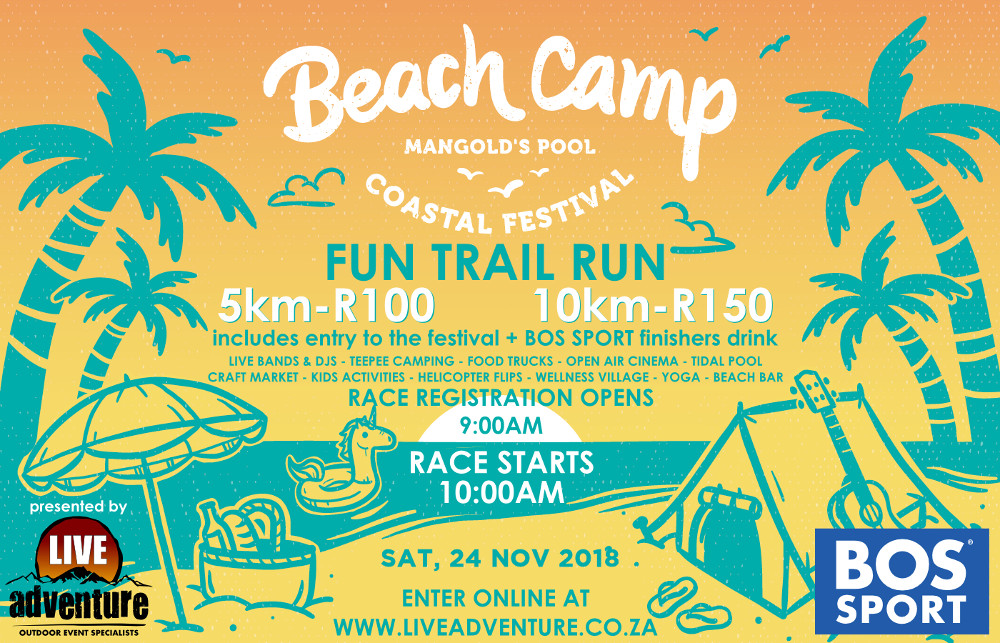 Trail Run Fun In The Sun
---
Join us for a fun trail run at the inaugural Corona Beach Camp Coastal Festival.
Choose from a 5km or 10km trail run on some pretty coastal trail routes.
Your race entry also includes entry to the festival (value R100) as well as a BOS Sport finisher drink.
There are shower facilities for afterwards so that you can freshen up before joining the festivities at the Corona Beach Camp Festival.
These will include live bands & DJ's, Teepee camping, PE's famous food trucks, an open air cinema, a tidal pool, a craft market, kids activities, helicopter flips, a wellness village, yoga sessions and the Corona Beach Bar!
Countdown To The Beach Camp Coastal Festival Fun Trail Run
General Event Info
Runners can enter either the 5km or the 10km race.
The first 50 entrants will also receive a surprise freebie …
We strongly encourage all runners to pre-enter online.
Late entries will be accepted at registration, but a late entry fee of R20 will be charged.
Registration will be open from 9am on Saturday the 24 November at the race venue at Mangolds Pools.
The routes will be well-marked, but please attend and listen at race briefings, as this will benefit you on the trails.
There is NO WATER POINT - Runners must carry a hydration pack, fuel belt or water bottle.
There will be a sweeper on the course for each race.
This is a green race so no litter will be tolerated, and anyone seen littering on the course will be disqualified.
Medics will be present on the course to ensure each runners safety, but every participant must complete their medical details and sign the indemnity form in the online registration form.
Any medical costs incurred by a race participant will not be covered by the race organisers, sponsors or NMB municipality, and you enter the race at your own risk.
The race organizers reserve the right to cancel any of the trail runs in the event of extreme weather conditions, which could endanger the participants.
Online entries close at noon on Friday 23 November 2018.
5km Trail Run / Walk Info
Saturday 24 November 2018

Children under 10 years old may enter as long as they are accompanied by an adult.
Registration and late entry will be on Saturday 24 November between 9:00am and 9:50am.
Race briefing is at 10:05am
The 5km run starts at 10:10am
The course is relatively flat and easily runnable.
All 5km entrants are encouraged to carry their own water if necessary, as there are no water points on the routes.
Prizes will be awarded to the 1st male and female in each race.
All finishers will receive a BOS Sport finishers drink
Walkers are welcome!
10km Trail Run Info
Saturday 24 November 2018

Children under 10 years old may enter as long as they are accompanied by an adult.
Registration and late entry will be on Saturday 24 November between 9:00am and 9:50am.
Race briefing is at 9:55am
The 10km run starts at 10:00am
The course is relatively flat and easily runnable.
All 10km entrants are encouraged to carry their own water if necessary, as there are no water points on the routes.
Prizes will be awarded to the 1st male and female in each race.
All finishers will receive a BOS Sport finishers drink
Live Your Coastal Festival Fun Trail Run Adventure Today >>