2020 Elsen Academy Virtual Fun Run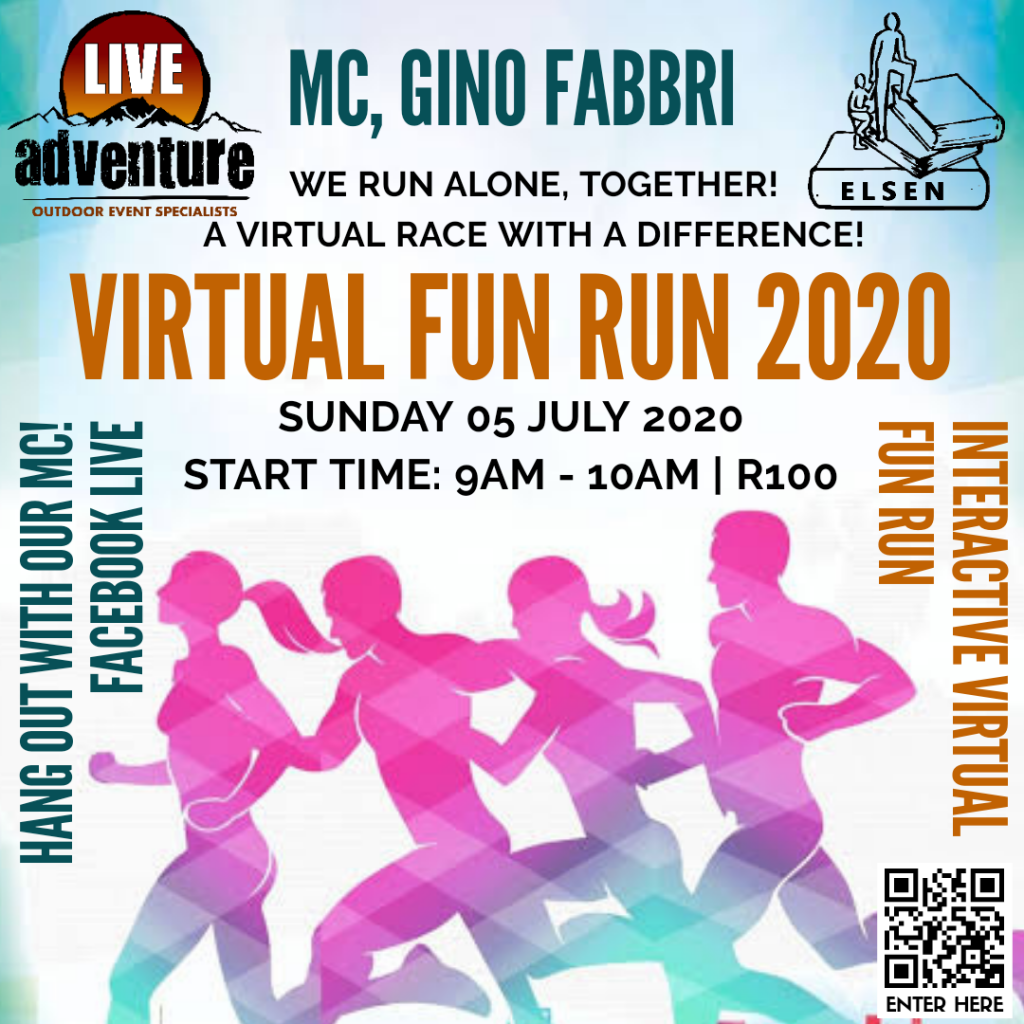 Elsen Virtual Fun Run
---
We've had to get a bit creative this year for the annual Elsen Academy Fun Run!
So we've come up with a fun way to keep you active and engaged with everyone else taking part!
What?
A one hour running/walking event for the whole family.
When?
Sunday 5 July, 9-10am CAT.
Where?
You choose! Anywhere and everywhere!
Why?
To raise funds and awareness for The Elsen Academy in Port Elizabeth, South Africa.
So How Will It Work?
---
This is where it gets interesting!
Only one entry is needed per family.
Each entry will receive a virtual race number.
You will need to run with your phone, and have some data loaded.
The run will be live-streamed from our super-duper-extra-special race studio, manned by none other than Gino Fabbri.
Each entrant will be given a link to the LIVE STREAM STUDIO, where Gino will be waiting to hear from you!
You will be allocated a SPECIFIC TIME to call in to the studio and have a quick LIVE chat with Gino and other runners. We'll want to know where you are, how far you've run and how much fun you're having!
The studio will be live from 9-10am CAT.
You can run any distance and any route (so if you have a long run scheduled, you can start at 6 and we'll catch up with you wherever you are between 9 and 10).
Invite friends and family to watch the live stream at your time slot! It is an interactive platform, so they'll be able to post comments that we can share with you :-).
Post photos of your run/walk on the official Facebook event page here - we'll share these on social media and prizes will be awarded for:
Best dressed
Prettiest plant/flower
Most epic view
Funkiest mask
Please adhere to public safety protocols - social distancing (not from family members obviously!) and masks are required!
Looking forward to (virtually) seeing you all out there!
About Elsen Academy
Elsen Academy is an independent, registered school focussed exclusively on children who struggle to respond to traditional learning.
The children require intense classroom support and individual coaching from a range of in-house educational specialists.
They are a small school with a maximum of 14 children per class. Their objective is to accommodate unique learning styles of each child in order for them to reach the necessary requirements of the mainstream CAPS curriculum.
Countdown To The 2020 Elsen Academy Virtual Fun Run